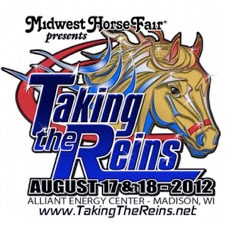 Taking the Reins
The Midwest Horse Fair® is pleased to announce the creation of a second event to be held at the Alliant Energy Center on August 17 and 18, 2012: Taking the Reins, an entirely new equine experience. While the Midwest Horse Fair® showcases all things equestrian, Taking the Reins will provide attendees with a one-of-a-kind, hands-on experience, designed to encourage participation in clinics and demonstrations.

"Taking the Reins will appeal to all horsemen who want to learn about new techniques and products firsthand," says Rhonda Reese, General Manager of the Midwest Horse Fair®. "This event will provide a more intimate experience for casual riders and trainers, as well as serious equestrians, to ask questions and interact with some of the industry's finest. Non-horse owners and families will also find lots to do and see."

Taking the Reins will provide attendees the opportunity to get up close and personal with horses, trades, and equipment during the two-day event and "take the reins" of their life. The use of Willow Island, located on the north side of the Alliant Energy Center grounds, will be new to this event and will allow for some exciting learning opportunities! While the full slate of classes and demonstrations is still being finalized, Taking the Reins will host "Project Cowboy," where up to 250 riders will have to "demonstrate exceptional horsemanship and communication skills in never-before-seen competitions" throughout the weekend. The winner receives $10,000 and an array of other prizes.

The Midwest Horse Fair® and Taking The Reins are owned by the Wisconsin Horse Council, Inc. All proceeds from the events are returned to the WHC and are used to represent and foster a unified equine industry in Wisconsin, promote the equine through leadership, education, service and communication, and to take a proactive role in the future growth and development of the equine industry.